Toll-Free: (888) 831-1012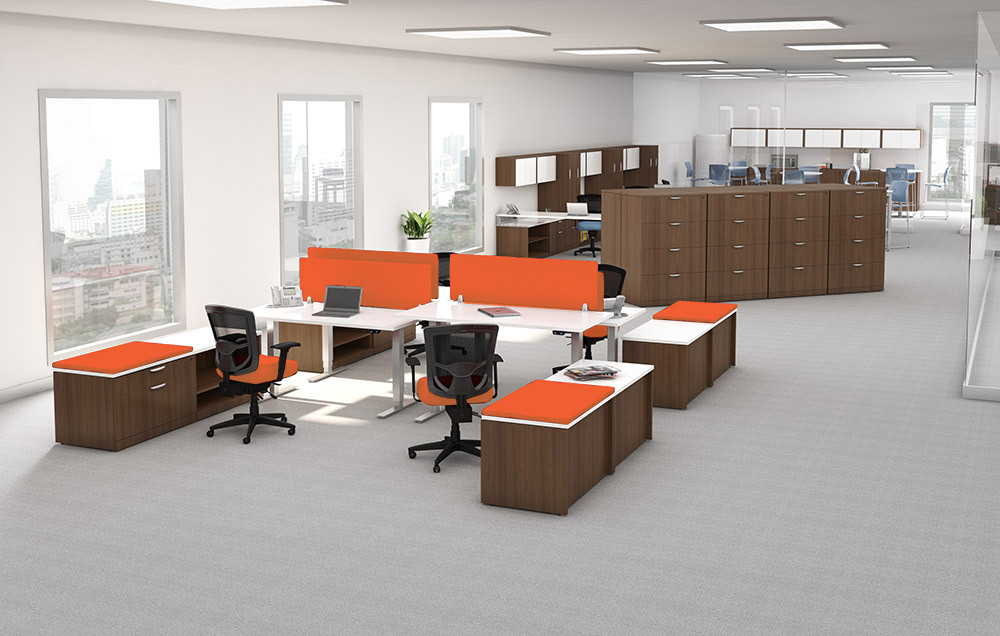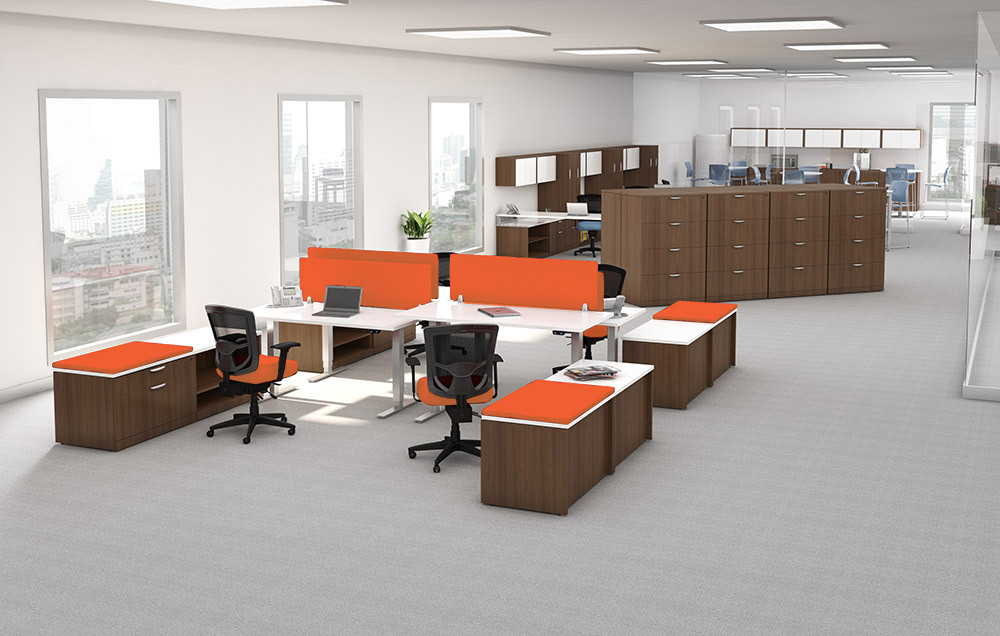 Open Office Desks
Setting up a new office has many options. A new trend in office layout is an open office. An open office layout takes a cubicle layout and removes the partitioned walls. This opens the work area for teamwork and maximizes communication. Just like a residential floor plan opens a home, the open office layout has the same affect.
The largest piece of office furniture in an open office layout is the desk. An open office desk can come in a variety of styles and colors. Whether it's traditional, contemporary, or modern there is a style to fit your design. Because there are many modular designs an open office layout can fit just about any space.
A commercial open office desk is set up just as a cubicle farm would be. Rows of desks can be built together or in differing sections. This allows for departments to be set up together without walls which brings inclusion to the forefront of the office. This new trend is growing because of the benefits that an open office provides.
In your search for open office desks, finding a well-respected commercial office furniture business to be your supplier is a must. A supplier that understands this style of office layout and that has all the tools to make the search easier from start to finish. This supplier will be able to assist from budgeting to installation and everything in between.
One of the major benefits of finding a great supplier is the expertise of office layout. This supplier will give you access to a design team that will make any office space in a layout that is both aesthetically pleasing and highly functional. If your space isn't a traditional office space, then a design team will provide floor plans that fit your space. A design team is an extremely valuable tool that can be apart the overall purchase.
As a part of your commercial open office desk purchase, another step in the purchase is installation. Open office desk are complicated modular pieces that fit together to make up each workstation. Attempting to perform a self-installation is not recommended. Leaving the installation to the professionals will keep you on schedule and prevent headaches that come with attempting an installation of such complexity on your own.
In review, commercial open office desks are the next evolution of a cubicle layout that takes away the partitioned walls to open up the space and promote inclusion. Finding a trusted supplier is the key to making a purchase. This supplier should give you access to a wide variety of open office desks styles to fit your office and style needs, as well as design and installation teams to assist in making a complete purchase.
Selecting the right commercial office furniture for you can be a difficult task to do on your own. If you are in need of new, quality office furniture, give us a call at (888) 831-1012 to speak one-on-one with our professional designers!